→

News

→

Articles: theWord for the iPad!
Welcome to WordModules.com. Download thousands of free theWord modules!. Feel free to ask questions about our theWord resources using the message boards. You must have theWord installed to view theWord modules.

Featured The Word Download
Selected works on Hermeneutics and Bible Interpretation by David L. Cooper, Th.M., Ph.D., Litt.D....

View Downloads Area
theWord Download Stats
Total Files: 1,289

Total Downloads: 1,203,294

Total Contributors: 97


theWord Download Comments

0





theWord for the iPad!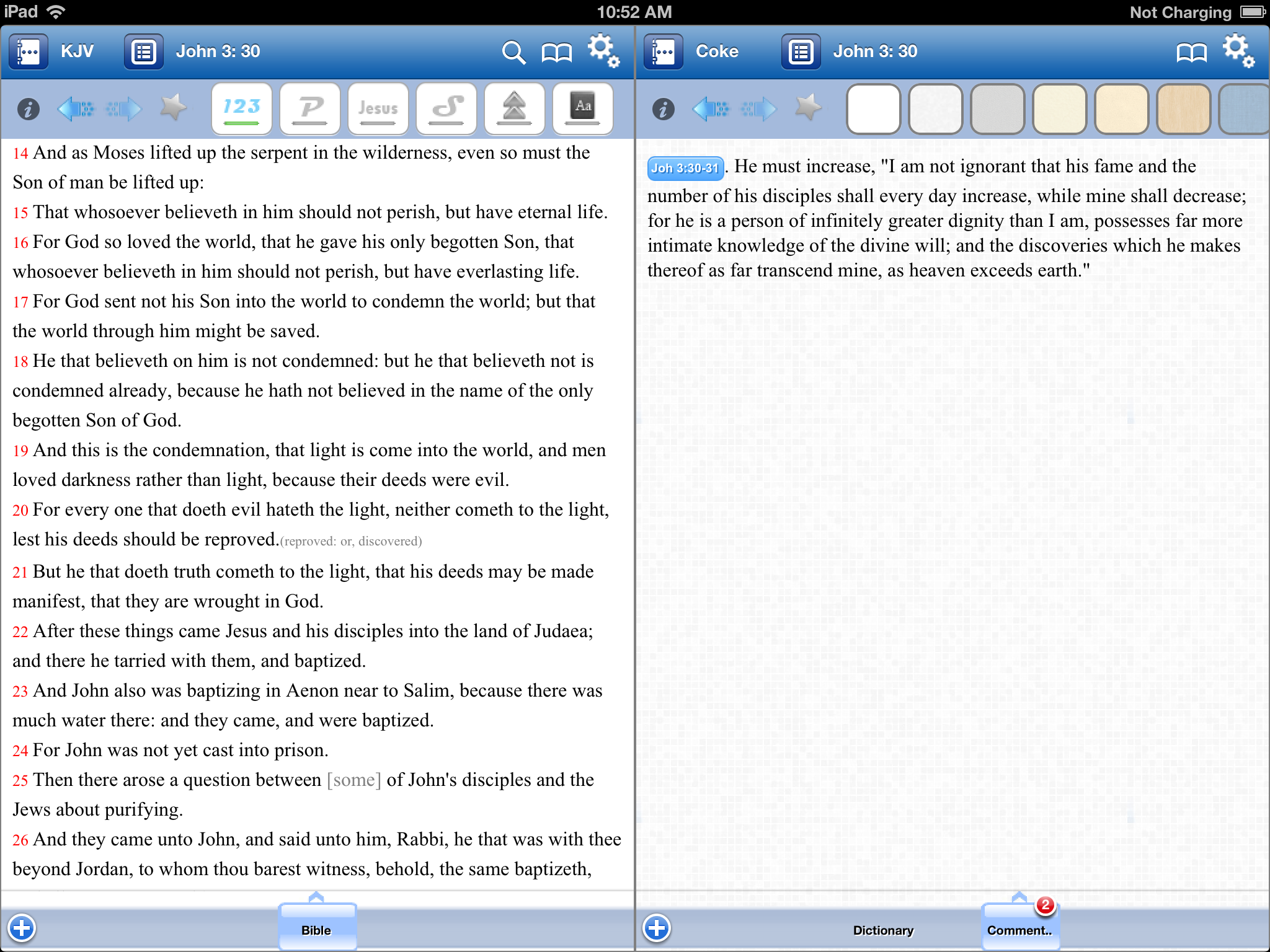 There is a new app in the app store that reads theWord modules. NO conversion needed--the software reads normal theWord modules:
Author's website:
http://www.holybibleanswer.com/
iTunes:
https://itunes.apple.com/us/app/ibible-study-hd/id597291980?ls=1&mt=8#
What do I like about this app?
It reads theWord's native modules. No format shifting or other nonsense which makes my job a LOT easier.


Another great thing: it supports two windows simultaneously.


Read the Bible with each verse on a new line (e-Sword style) or by paragraph! Very nice! There's a time and a place for each but I love the paragraph style.


Show verse numbers in Bible paragraph or line by line mode--or not at all.


Cross References from the Bible view.


It's Free!
I would consider this a "
beta
" version:
I've noticed the app will not read compressed modules.


There is no theWord Book reader--just Dictionaries, Commentaries, and Bibles.


The default Bible is KJV with Strongs. Another default should be just the KJV. Why? Tooltip popups show the KJV with Strong text and there's no way to show just the KJV text in a tooltip unless you have the KJV installed (without Strongs). Small issue, easily fixed by downloading the KJV without strongs.


No way to change the font rendering--it uses a Times New Roman style font. I would personally prefer a less ornate font, like Tahoma or similar.


The Bible search works great, but no way to search other module formats.


I like clean designs on the iPad. I'm not a fan of colored toolbars. That can't be changed. Also, when you install it, you have to "de-clutter" the look of the app slightly. Click the settings icon and remove the KJV Strongs designations and the new verse [Aa] designations (the latter really gets in the way).
Click here for pictures:
http://www.wordmodul...d-for-the-ipad/
→

News

→

Articles: theWord for the iPad!