File Name
: Spurgeon. C.H. - Sermons from Proverbs
File Submitter
:
wlue777
File Submitted
: 08 Jul 2012
File Updated
:
08 Jul 2012
File Category
:
Books
Author
: Charles Spurgeon
theWord Version
: 3.2.x
Suggest New Tag:
: twm wlue777
C. H. Spurgeon

- Baptist preacher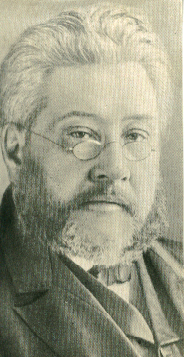 Source: Wikipedia
The descendant of several generations of Independent ministers, he was born at Kelvedon, Essex, and became a Baptist in 1850. In the same year he preached his first sermon, and in 1852 he was appointed paster of the Baptist congregation at Waterbeach. In 1854 he went to Southwark, where his sermons drew such crowds that a new church, the Metropolitan Tabernacle in Newington Causeway, had to be built for him. Apart from his preaching activites he founded a pastors' college, an orphanage, and a colportage association for the propagation of uplifting literature. Spurgeon was a strong Calvinist. He had a controversy in 1864 with the Evangelical party of the Church of England for remaining in a Church that taught Baptismal Regeneration, and also estranged considerable sections of his own community by rigid opposition to the more liberal methods of Biblical exegesis. These differences led to a rupture with the Baptist Union in 1887. He owed his fame as a preacher to his great oratorical gifts, humour, and shrewd common sense, which showed itself especially in his treatment of contemporary problems. Among his works are
The Saint and his Saviour
(1857),
Commenting and Commentaries
(1876) and numerous volumes of sermons (translated into many languages).
—
The Oxford Dictionary of the Christian Church
This is a collection of ALL of the Sermons that Rev. Spurgeon preached on the book of Proverbs.
 
PRO 4:13 The Hold Fast C. H. Spurgeon
PRO 4:23 The Great Reservoir C. H. Spurgeon
PRO 4:25 Eyes Right C. H. Spurgeon
PRO 5:11 At the End of Your Life C. H. Spurgeon
PRO 5:22 Sinners Bound with Cords of Sin C. H. Spurgeon
PRO 6:20-23 An Appeal to Children of Godly Parents C. H. Spurgeon
PRO 6:22 The Talking Book C. H. Spurgeon
PRO 11:25 The Waterer Watered C. H. Spurgeon
PRO 11:26 Withholding Corn C. H. Spurgeon
PRO 11:30 The Soul Winner; Soul Winning C. H. Spurgeon
PRO 14.10 Man unknown to man
PRO 14:14 How a Man's Conduct Comes Home to Him C. H. Spurgeon
PRO 14:26 Godly Fear and its Goodly Consequence C. H. Spurgeon
PRO 15:11 God, the All-Seeing One C. H. Spurgeon
PRO 15:19 The Hedge of Thorns and the Plain Way C. H. Spurgeon
PRO 16:2 Unsound Spiritual Trading C. H. Spurgeon
PRO 16:20 Trust in God--True Wisdom C. H. Spurgeon
PRO 17:17 The Unrivalled Friend C. H. Spurgeon
PRO 18:10 Our Stronghold C. H. Spurgeon
PRO 18:12 Pride and Humility C. H. Spurgeon
PRO 18:14 The Cause and Cure of a Wounded Spirit C. H. Spurgeon
PRO 18:24 A Faithful Friend C. H. Spurgeon
PRO 20:4 The Sluggard's Reproof C. H. Spurgeon
PRO 22:6 Duties of Parents J. C. Ryle
PRO 22:13 One Lion, Two Lions, No Lions at All C. H. Spurgeon
PRO 23:17-18 All the Day Long C. H. Spurgeon
PRO 23:19 Three Important Precepts C. H. Spurgeon
PRO 23:23 Buying the Truth C. H. Spurgeon
PRO 23:26 The Heart: A Gift from God C. H. Spurgeon
PRO 24:30-32 The Broken Fence. The Sluggard's Farm C. H. Spurgeon
PRO 25:2 God's Glory in Hiding Sin C. H. Spurgeon
PRO 25:25 Good News C. H. Spurgeon
PRO 27:1 Tomorrow/ Cheer for Despondency C. H. Spurgeon
PRO 27:6 Faithful Wounds C. H. Spurgeon
PRO 27:8 The Wandering Bird C. H. Spurgeon
PRO 27:10 The Best Friend C. H. Spurgeon
PRO 27:18 The Way to Honor. The Honored Servant C. H. Spurgeon
PRO 27:7 Spiritual Appetite C. H. Spurgeon
PRO 28:13 Two Coverings and Two Consequences C. H. Spurgeon
PRO 28:14 The Right Kind of Fear C. H. Spurgeon
PRO 29:25 Two Ancient Proverbs C. H. Spurgeon
PRO 30:2 A Homily for Humble Folks C. H. Spurgeon
PRO 31 The Proverbs 31 Woman (Proverbs 31) John MacArthur
PRO 31:6-7 The Gospel Cordial C. H. Spurgeon
Click here to download this file