Submitter
Submitted: Jul 30 2012 10:15 AM
Last Updated: Jul 30 2012 11:16 PM
File Size: 9.59MB
Views: 10781
Downloads: 3,312
Author: Henry Alford
theWord Version: 3.x - 4.x
Tab Name: Alford
Support WordModules.com
If our theWord modules have blessed you, please consider a small donation.


Your donation pays the actual, out-of-pocket expenses of running this ministry.

Your donation pays only for dedicated server hosting, bandwidth, software licenses, and capital equipment (scanners, OCR equipment, etc).



theWord Module Download:
Download Alford, Henry - The Greek Testament (4 vols)





13 Votes
New Testament
Greek
Exegesis
Word Study

7

Author:
Henry Alford
theWord Version:
3.x - 4.x
Tab Name:
Alford
theWord Edition of The Greek Testament
This commentary has been specifically formatted for theWord.
Comments are properly divided verse by verse instead of the previous version's bulky, chapter-by-chapter division.

Greek and Hebrew are properly rendered.

Implicit references converted to explicit - ToolTipped (clickable verse references)

20 megabytes of commentary on nearly every Greek word in the New Testament!

Missing comments from the previous version restored — 7,075+ comments in this version.
The Greek Testament
This classic, time-tested reference is written in English on the Greek text of the New Testament.
Written from 1849-1861,
Alford's Greek Testament became Henry Alford's lasting legacy. Alford provides
grammatical
,
literary
,
lexical
, and
textual analysis
on nearly
every Greek word
in the New Testament.
The commentary's scholarship is exemplary, as it emerged i
n a era when people were more disciplined and educated.
I
t's a work of immense thought and study. When you consider the amount of information Alford had to filter, study, and analyze, all before the age of digital retrieval systems, photo copiers, and electric typewriters, the results are even more impressive.
Even today, Alford remains one of the most influential, authoritative Greek commentaries, often cited in books, dissertations, and blogs.
John Piper says The Greek Testament "comes closer more consistently than any other human commentator to asking my kinds of questions".
John MacArthur's Masters Seminary, who lists this resource with a must-have asterisk in: 850 Books for Biblical Expositors.
Charles Spurgeon says The Greek Testament "is an invaluable aid to the critical study of the text of the New Testament. You will find in it the ripened results of a matured scholarship ... generally highly impartial, always worthy of respect"
The volumes are:
Volume I


Part I: Matthew–Mark

Part II: Luke–John

Volume II

Volume III

Volume IV


Part I: Hebrews

Part II: James–Revelation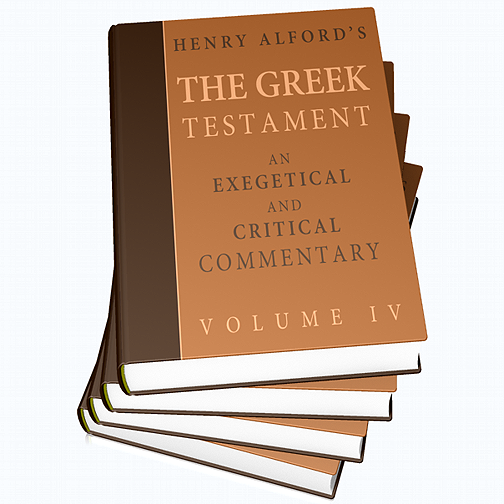 Other files you may be interested in ..
1,289

Total Files

11

Total Categories

97

Total Contributors

1,203,305

Total Downloads
Son Of Man Bible Latest File
anapto Latest Submitter
2 user(s) are online (in the past 30 minutes)
0 members, 2 guests, 0 anonymous users
Alford, Henry - The Greek Testament (4 vols)