→

Help

→

Articles: How to Install theWord Modules
Welcome to WordModules.com. Download thousands of free theWord modules!. Feel free to ask questions about our theWord resources using the message boards. You must have theWord installed to view theWord modules.

Featured The Word Download
Part paraphrase, part commentary, part survey, and part critical notes, this massive work was lik...

View Downloads Area
theWord Download Stats
Total Files: 968

Total Downloads: 262,356

Total Contributors: 40


theWord Download Comments
Online Now
42 GUESTS, 9 MEMBERS




Google,

Nathan711, MichealZ6, EmoryXll, Jon, Cewserubber, Kernappargy, MeredithC, tomwduda, harrym

51 active user(s)(in the past 30 minutes)
Welcome, New Members!
DellTulab, MichealZ6, Katherina, Doris11R, LaurenFin, MichellSp, DulcieSif, OsvaldoDu, GenaStock, brt5555, PenniEvz, Marcelo91, IleneBurc, Chauncey8, AnnetteKe, Roland68D, ednaldo, DaleneBRR, HeleneBac, LarueFriz, KelliU92, LouisaOca, Kasha22A, Bonita009, SamualDen, manuelkuhs, Georgiann, DaveWalli, ToryZCC, Joe S,
Message Board Stats
Posts: 1,618 | Topics: 1,108

Members: 7,109

Newest Member: DellTulab

Online At Once: 253 -

19-November 13



Search Articles

8





How to Install theWord Modules
You must
install
theWord
Bible study software to view theWord modules. theWord is an "ebook reader" that integrates the content of religious books with the Bible passages they reference. If you've never used theWord before, see
introduction
.
1) Download and Install
theWord module installer
.
2)
From Windows explorer
, you can install theWord modules by "
running
" or
double clicking
the module after the download completes. Follow the prompts to install theWord module.

-OR-
3)
From an Internet Browser
, you can install theWord Modules by "
opening
" the file when prompted at the start of the download. When the download completes, follow the prompts to install theWord module.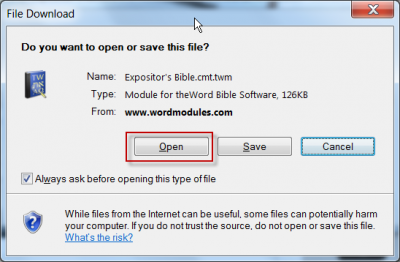 →

Help

→

Articles: How to Install theWord Modules