Submitter
Submitted: Jun 02 2012 07:33 AM
Last Updated: Jun 03 2012 11:41 AM
File Size: 4.49MB
Views: 3243
Downloads: 941
Author: Alfred Edersheim
theWord Version: 3.x - 4.x
Tab Name: Alfred Edersheim
Suggest New Tag:: Alfred Edersheim wlue777 the word bible software
Support WordModules.com
If our theWord modules have blessed you, please consider a small donation.


Your donation pays the actual, out-of-pocket expenses of running this ministry.

Your donation pays only for dedicated server hosting, bandwidth, software licenses, and capital equipment (scanners, OCR equipment, etc).



theWord Module Download:
Download Works of Alfred Edersheim





4 Votes

1
Author:
Alfred Edersheim
theWord Version:
3.x - 4.x
Tab Name:
Alfred Edersheim
Suggest New Tag::
Alfred Edersheim wlue777 the word bible software
Alfred Edersheim

- Anglican Biblical scholar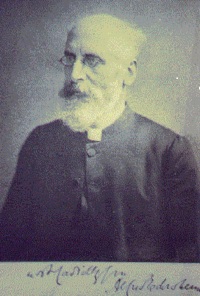 Source: Wikipedia
Edersheim was a scholar and writer on the traditions of the Jewish faith and Life of Christ He was born March 7th, 1825 in the city of Vienna, Austria. His parents Marcus and Stephanie Beifuss were of the Jewish faith. In Vienna he studied in the gymnasium and University of Austria.
Around 1845 he moved to Pesth, Hungary where he met John Duncan and other Presbyterian ministers, who were chaplains to Scottish workmen building a bridge over the Danube River. Under their influence he became a Christian and came to Scotland with Dr. Duncan. In 1843 he entered New College until 1844. In 1846 he entered the Presbyterian ministry and thereafter preached for a year as a missionary to the Jews and Germans at Jassy in Rumania. He came to Old Aberdeen Church in 1848 and remained for twelve years. Here he translated several German theological books into English and wrote his
History of the Jewish Nation from the Fall of Jerusalem to the reign of Constantine the Great
."
Reverend Alfred Edersheim was the second minister of Free Church known then as Old Machar Free Church. After twelve years at Free Church, Alfred's health started failing, he resigned and moved to Torquay in the county of Devon, England. In 1861, he gathered a congregation and in 1862 they built St. Andrews Presbyterian Church in Torwood Gardens, Torquay. Because of deteriorating health problems he had to resign from St. Andrews and moved to Bournemouth a spa on the south coast. In 1875 he became an Episcopalian and ordained a deacon and priest in the Church of England. For a year he was the (unsalaried) curate of the Abbey Church, Christ Church, Hants, near Bournemouth. In 1876 he became vicar of Loders, Dorsetshire; resigning in 1883, moving to Oxford, where he was select preacher to the University from 1884-86.
Because of his health condition he eventually moved to Menton, France where he passed away March 16th, 1889.
His publications as author, translator, editor, and contributor to dictionaries and serial works are very numerous. Perhaps the best-known are:
The History of the Jewish Nation from AD 70-312 (1857)

The Jubilee Rhythm of St. Bernard, and other Hymns (1866)

The Golden Diary of Heart-Converse with Jesus in the Psalms (1874)

The Temple: its Ministry and Services as they were in the Time of Jesus Christ (1874)

Sketches of Jewish Social Life in the days of Christ (1876)

The Life and Times of Jesus the Messiah (1883; 2 vols)

Prophecy and History in relation to the Messiah, (Warburtonian Lectures, 1880-84)

The History of Israel from the Sacrifice on Carmel to the Death of Jedhu (1885)
Works in this zipped file
The Life and Times of Jesus the Messiah
Bible History, the Old Testament
Sketches of Jewish Social Life
The Temple, its Ministry and Service
This was converted from E-sword 9.X
Other files you may be interested in ..
1,211

Total Files

11

Total Categories

79

Total Contributors

886,374

Total Downloads
Son Of Man Bible Latest File
anapto Latest Submitter
16 user(s) are online (in the past 30 minutes)
0 members, 16 guests, 0 anonymous users
Works of Alfred Edersheim